Facilitation Area
Library
Being the heart, soul and mind of an academic institute, the libraries at Jain Group of Colleges are fully spacious, well equipped and centrally air-cooled. Jain Group has more than 50,000 books and the variety of reports on diverse topics of management, computer application, life sciences and allied subjects. To acquaint the current information & knowledge, periodicals, newspapers, magazines and journals from various professional bodies, both national and international are being procured continuously which is to be considered by the student apart from their regular text book.
Lecture Halls
Jain Group has a blossoming green, pollution free, high pulsation campus. All class rooms and labs in the colleges are well ventilated as well as centrally air-cooled. The indoor spaces devoted to intense academics are carefully built with comforts and care to satisfy the student physically and intellectually. The lecture halls are provided with modern teaching aids such as OHP's, LCD's & DLP Projectors to facilitate easy grasp of the subjects.
Project Work and Presentation
Project Work and Presentations exposes students to real world situation which require students to take the initiative, research facts, work on time bound programmes and develop communication and presentation skills which play an important role in shaping the future of the students.
Cafeteria
Campus has an aesthetically designed cafeteria, which serves delicious and wholesome meal to the students, faculty and staff at subsidized rates. Refreshment and lunch facilities are also provided.
Sports and Games
Aristotle's view "Sound mind lives in a sound body" is very apt in this busy scheduled life of present era. For all round development of the students, the Jain Group not only provides quality education but also organizes number of team events like Kho-kho, Football, Cricket, Volley Ball, Athletics, Badminton, Lawn Tennis,
Table Tennis, Chess, etc. The sports team of Jain Group regularly participates in the intercollegiate competitions at university level. The coach guides and polishes the skills to mould them into an ever shining star.
Societal Activities
For the all-round development of the scholars, Jain Group provides full freedom for shaping them into skilled person through indulging themselves in various activities. Students give active participation in different cultural and social activities. Jain Group commonly arranges a range of enlightening and collective activities. Functions like Independence Day, Republic Day, Teacher's Day and Gandhi Jayanti are celebrated by scholars with full patriotic gusto. A variety of competitions-Quiz, Debate, Extempore, Antakshari, Rangoli, Fruit and Salad decoration, Ad-Mad show, Clay Modeling etc. & Sports are some regular co-curricular activities at Jain Group. It refreshes students after the hectic schedule of teaching learning programme.
Extra-Mural Activities
This is an additional energetic feature of the Jain Group. Veteran professionals, through lectures, are planned to increase the conceptual awareness of students with realistic aspects of Information Technology, Management & Commerce, Life Sciences and Education who are invited from alleged organizations. Executives and renowned personalities from the corporate world are also invited to the Institute frequently for interacting with students on significant topics and sensible aspects of all concerned areas. These interactions augment students, illuminating them to experience industry.
Student Teacher Interaction
According to the view of a great educationist, "the relation of a teacher with a student should be of FRIEND, PHILOSOPHER and GUIDE." The congenial atmosphere at Jain Group provides a healthy interaction of the students with their teachers. Students of different background feel at ease while discussing their problems.
Health Check-Up
In campus and hostels the students are given instant first aid services to protect them from serious injuries and traumas. Jain Group also provides medical facilities for ill students as we behave as local guardians of our students.
Educational Loan
To provide quality education to each and every student of diverse background, the Jain group helps for providing educational loan from the banks. The students who are desirous to achieve their aim in the life but not able to pay the fee, can avail this opportunity and continue their studies. This facility encourages the students to acquire higher education, which they cannot pursue, because of lack of finances.

Railway Concession
Jain Group has an alliance with the railway authorities to offer facilities of rail fare concession for attending interviews, study tours and while going on vacations. The students coming from nearby areas and wish to make daily up and down can avail the facility of monthly seasonal tickets (MSTs).
Transportation Facilities
Jain Group provides Bus facility from different routes of the city to the Campus and back on the prescribed routes for both residential and day scholars. The bus facility will be available for complete course duration at a very nominal fee.

Student Uniform Material
All the Jain Collegians are requested to come in a prescribed dress code, which will be provided to them by the college at a nominal fee. The students will get uniform material from the account section, which is to be get stitched by them. The students have to come in given dress code with their own black shoes and white socks.
Personality Development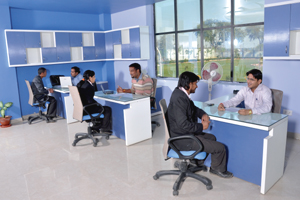 "Communication- the human connection –is the key to personal & career success"
It is a universally acknowledged truth "No human being is perfect in this world". Every human being is having number of shortcomings in his/her personality, which always distract in between the success. To overcome these shortcomings and for enhancing their skills, we have effective "Personality Development Course".
Personality Development, an intrinsic tool in molding and shaping an individual, is an integral part of teaching at Jain Group of Colleges. Regular training programs, Seminars, Group Discussions are conducted for language proficiency and development of interpersonal skills. As new opportunities invoke positive impression in an individual, our action and mannerism speak for us as well groomed appearance and poised behavior demonstrate confidence. So to master the rules of social/business etiquette, it becomes indispensable. The course will help to increase confidence, boost self esteem and enhance the quality of professional and social life.
Internet Access
Students can access free internet facility anytime through Wi-Fi and remain connected with the new emerging techniques taking place at various regions of the world, to enhance their skills.