M.Sc. (Master of Science in Biotechnology)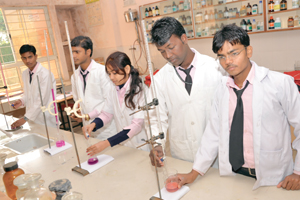 The main objective of this programme is to produce skilled biotechnologist who
can be absorbed in a wide range of industries and research organizations like NII, AIIMS, CDRI, NBRI, ITRC, Ranbaxy, Cadila, Cipla, Dabur etc. The college has introduced a scheme in which the students are required to deliver seminars on the specific contemporary topics which exposes them to recent researches in the relevant field. Moreover students can take an extensive programme of supervised practical project/training at various reputed research institutes and industries.
Master of Science in Biotechnology (M.Sc.)
| | |
| --- | --- |
| Duration : | Four Semester (2 Years) |
| Approval and Affiliation : | Approved by MP Higher Education, and affiliated to Jiwaji University, Gwalior. |
| Intake : | 60 |
| Admission Eligibility : | Successful completion of 10+2+3 (Graduation) or equivalent examination with Biology subjects and having 50% marks for General and 45% marks for OBC/SC/SC category.Age Limit: General- 28 yrs, SC/ST/OBC- 31 yrs, Female- No Age bar |
| Admission Procedure : | Direct, based on merit of marks in 10+2+3. |
| Course Structure :  | The degree comprises of four semester examinations. The teaching methodology used in the course includes classroom lectures, individual and group seminars & presentations, assignments and supervised practical experiments in the laboratories. In final semester student shall also go for a project cum dissertation work. |
Papers of M.SC. BIOTECHNOLOGY
First Semester Download Syllabus
Second Semester Download Syllabus
Paper 101. Cell Biology
Paper 102. Bio-molecules and Biotechnique
Paper 103. Microbiology
Paper 104. Bioinstrumentation.
Paper 105. Lab Course I
Paper 106. Lab Course II
Paper 201. Molecular Biology
Paper 202. Immuno Technology
Paper 203. Enzymetechnology
Paper 204. A. Animal biotechnology
B. Environmental Biotechnology
Paper 205. Lab Course III
Paper 206. Lab Course IV
Third Semester Download Syllabus
Fourth Semester Download Syllabus
Paper 301. Genetic Engineering
Paper 302. Plant Biotechnology
Paper 303. Bioprocess Engineering & Technology
Paper 304. Biostatistics & Comp. Appl.
Paper 305. Lab Course V
Paper 306. Lab Course VI
Paper 401. Emerging Trends in Biotechnology
Paper 402. Bioinformatics/ Entrepreneurship in Biotech
& IPR/ Mgmt. & Mktg. of Biotech Products (optional)
Paper 403. Lab Course VII Technical/ Review writing