B.Sc. (Bachelor of Science in Biotechnology)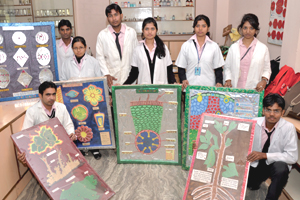 The three years B.Sc. programme deals with the branch of Biotechnology for the study of industrial and commercial use of biological tools with the help of appropriate techniques. The course will enable you to enter in exciting & progressive field of Science and Technology.
Bachelor of Science in Biotechnology (B.Sc.)
| | |
| --- | --- |
| Duration : | 3 Year |
| Approval and Affiliation : | Approved by MP Higher Education and Affiliated to Jiwaji University, Gwalior. |
| Intake : | 120 |
| Admission Eligibility : | Successful completion of 10+2 or equivalent examination in Biology subjects.Age Limit: General- 23 yrs, SC/ST/OBC- 26 yrs, Female- No Age bar |
| Admission Procedure : | Direct, based on merit of marks in 10+2. |
| Course Structure :  | The degree comprises of three annual examinations. The teaching methodology used in the degree includes classroom based lectures, individual & group seminars, presentations, assignments, and supervised practical experiments in the laboratory. The evaluation method used in an annual session of the degree includes three internal assessments and a University Examination. |
Papers of B.SC. BIOTECHNOLOGY
NOTE- From session 2017-18 this course will be annual and examination will be conducted in yearly mode the new syllabus as per the curriculum will be uploaded shortly the given syllabus will be valid upto 2016 session.
First Semester Download Syllabus
Second Semester Download Syllabus
Paper – 101 Hindi Bhasha SanrachnaPaper – 102 Entrepreneurship
Paper – 103 Bimolecules, Enzymology, Biochemical
Techniques and Biophysics
Paper – 104 Diversity Of Microbes And Cryptogams
Paper – 105 Physical and Organic Chemistry
Paper – 201 English Language and Indian Culture
Paper – 202 Entrepreneurship
Paper – 203 Microbial Techniques & Recombinant DNA Technology
Paper – 204 Cell Biology & Genetics
Paper – 205 Inorganic and Organic Chemistry
Third Semester Download Syllabus
Fourth Semester Download Syllabus
Paper – 301 Hindi Bhasha and samwedna
Paper – 302 Environmental Studies
Paper – 303 Molecular Biology
Paper – 304 Diversity and systematic of seed plants
Paper – 305 Physical, Organic and Inorganic chemistry
Paper – 401 English language and scientific temper
Paper – 402 Environmental studies
Paper – 403 Immunology and animal biotechnology
Paper – 404 Structure , development and reproduction in flowering plants
Paper – 405 Physical, Organic and Inorganic chemistry